Eid ul Fitr follows the fasting month of Ramadan so it is no wonder that food is a central activity in the meeting of family and friends on this occasion.  Every country and region has its favorite Ramadan Eid dishes, elegantly presented and wonderfully delicious, which are specially made for Eid.
Read what the link is between Ramadan and charity here >>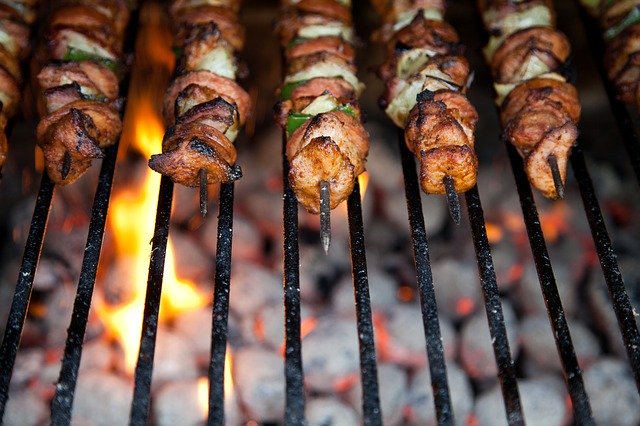 11 most popular dishes to celebrate Eid-ul-Fitr
Some of the most popular Ramadan Eid main dishes around the world:
India  Korma comes out on top for its sheer variety of dishes.  This flavour rich dish can be made using chicken, Mutton, Lamb or vegetables.  With the distinct flavours each region of the country adds to their version, this truly is a countrywide favourite for EId.
Morocco  Tagine is the famous dish often served in North African countries including Morocco.  Often prepared with lamb, beef or fish, this is a slowly-cooked stew which incorporates vegetables such as carrots and sweet fruits like apricots or plums.
Malaysia  Popular in South East Asia in general, the beef rendang is similar to curry but incorporates more spices.  Cooked until the meat is soft and tender, the gravy becomes thick and full of rich flavour.
Pakistan  Shahi Biryani is the traditional favourite with chicken being the meat of choice for this Eid.  The marinated chicken and saffron rice are layered with selected aromatic spices and slow cooked for that perfect flavour.
South Africa  Roast leg of lamb is a popular dish here for Eid if you don't find biryani on the table.  Oven roasted with garlic and herbs to get that juicy and moist taste.
UK  With a large South Asian population, Biryani again takes centre stage as the main dish for Eid ul Fitr.  Lamb is the meat of choice but chicken is also popular with a host of spices mixed in.  Another rice dish served is Pulao which is similar but with less spices.
Saudi Arabia  Chicken or lamb Mugalgal is the traditional Eid ul Fitr dish in many Saudi homes and is made with tomatoes, yogurt, peppers and onions fried with spices.
Turkey  Saç Kavurma is a favourite dish of Turkish people during the Eid period.  The meat of choice is cut lean and thin then cooked with certain vegetables in its own liquid in a thin metal pan, which is where the dish gets the name Saç. 
Iran  Khoresh or stew is one of the popular dishes in Iran. Mixing meat such as chicken with fruits brings a huge variety of flavours to satisfy every taste bud. 
Bangladesh  Tehari cooked with beef is famous in Bangladesh with its aromatic rice, although different versions of the dish with and without meat exist in the country.  The ingredients being cooked all together make this a firm favourite during either Eid.
Indonesia  A popular dish for Eid is Opor Ayam which is made from chicken and served with the ever present coconut milk.  Regional spices like lemongrass and galangal make this a mouth-watering meal perfect for Eid gatherings.
We hope you liked this article and may want to try and make some of the dishes and increase the love among the Ummah.  Hope you all have a lovely Eid.